---
Season Tickets are now on sale!
Click HERE to access our ticket-purchase portal. 
                        Adult       Senior       Student       Child
Season             $80          $64               $40            $0
OR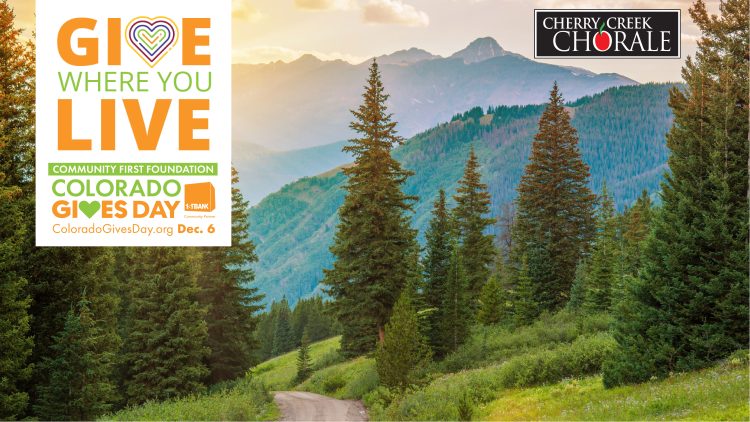 Make a donation to the Chorale of $300.00 or more, and we will send you a set of tickets for all four of this season's concerts. Donate now, through Colorado Gives Day
Click on the image to the left to donate any amount, but anything $300.00 and above will get you season tickets.
---
Featured Video
"Illuminare" March 2022
Below is a link to a portion of our March 2022 concert, featuring Elaine Hagenberg's spectacular "Illuminare."

We have a large collection of concert and other videos prepared for your enjoyment. Click the button below.
---
Don't Forget Debi!

Debi Simons is continuing her work, writing informative historical and literary (but definitely not boring) essays about our concert selections. Click on the banner above to visit her home page and watch an introductory video explaining what she does and how her site works.
New essays are added regularly in the weeks before each of our concert sets. If you'd like to read what she's saying about our upcoming performances, click the button below. 
---
Tickets now on sale! Click the "Purchase Tickets" button at the top of this page to purchase tickets.
Ticket prices for our 44th Season, 2022 – 2023
                        Adult       Senior       Student       Child
October            $23          $18              $12            $0
December        $25          $20             $15             $0
March               $25           $20             $15            $0
May                   $23          $18              $12            $0
Season             $80          $64               $40            $0
(Adults – 21 – 59, Seniors – 60 and over, Student – enrolled in school, Child – 12 and under
____________________________
We also accommodate group sales. A discount can be given based on the size of the group and the groups non-profit status or service to the community. Complementary tickets can be given to sponsors and transportation staff for them to attend.
If you are coordinating a group attendance, please submit the details of your plans to info@cherrycreekchorale.org, and we will be happy to work with you to accommodate your group.